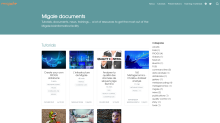 We are gradually reorganizing the way we make documents available on the web. Training materials, tutorials, analysis reports, details of our publications and FAQs can now be accessed via a single website: https://documents.migale.inrae.fr. Developed in Quarto, this website will be the sole complement to our https://migale.inrae.fr website, where you will continue to find all application forms (account, tools, training...).
We're taking care to redirect pages from the old sites to the new one, so that the switchover is seamless. Please do not hesitate to send us your comments and questions.
Nous sommes petit à petit en train de réorganiser la manière dont nous mettons à disposition des documents sur le web. Les supports de formation, tutoriels, rapports d'analyse, le détail de nos publications ou la FAQ sont désormais accessibles via un seul site web: https://documents.migale.inrae.fr. Développé en Quarto, ce site web sera donc l'unique complément à notre site web https://migale.inrae.fr, dans lequel vous continuerez de retrouver tous les formulaires de demande (compte, outils, formations…). Nous faisons en sorte de rediriger les pages des anciens sites vers le nouveau, de manière à ce que la bascule soit transparente. N'hésitez pas à nous transmettre vos remarques et vos questions.