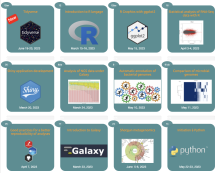 *** English version below ***
MIGALE vient d'ouvrir son cycle 2023 de formation "Bioinformatique par la pratique" avec 16 modules dont un petit nouveau :
Introduction aux bonnes pratiques (git, PGD, FAIR, ...) pour des analyses reproductibles
Initiation à l'utilisation de Galaxy
Analyse primaire de données issues de séquenceurs nouvelle génération sous Galaxy
Traitement bioinformatique et analyse différentielle de données d'expression RNA-seq sous Galaxy
Analyse statistique de données RNA-Seq -Recherche des régions d'intérêt différentiellement exprimées (R, RStudio)
Analyse de données de métabarcoding
Analyse de données métagénomiques «shotgun»
Annotation automatique de génomes bactériens
Comparaison de génomes microbiens
Initiation au langage R
Graphiques sous R avec ggplot2
Manipulation de données avec R : introduction à tidyverse (NEW)
Développement d'une application avec R Shiny
Python : Initiation et Avancé
Introduction au text-mining avec AlvisNLP
Modélisation in silico de structures 3D de protéines. Prédiction de mutations, de fixation de ligands
Inscriptions et informations sur https://migale.inrae.fr/trainings
------------------------
The 2023 training session is now opened with 16 modules including a new one. More info on the above link.