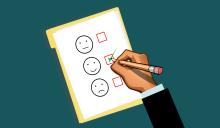 Bonjour/Hello
(English version below),
Comme chaque année, nous vous invitons à rempir notre enquête de staisfaction annuelle. Cette enquête est un des moyens que nous utilisons, dans le cadre de nôtre démarche qualité ISO9001,  pour mesurer l'adéquation entre vos besoins et notre offre de service.
Cette enquête ne vous demandera que quelques minutes à remplir et est disponible jusqu'au 15 décembre 2022 à cette adresse  :
https://migale.inrae.fr/evaluation2022
Nous savons que vous êtes régulièrement sollicités par ce genre d'enquête, mais soyez sûr que nous étudions avec attention vos réponses.
Voici quelques exemples d'actions ou de services mis en place suite à vos suggesstions ces dernières années :
- Mise en place d'un tutorial sur l'utilisation de la plateforme Migale
- Changement du message d'ouverture de compte pour mieux pointer vers la documentation d'utilisation du cluster
- Mise en place d'une formation « génomique comparée »
Nous vous remercions d'avance de votre participation,
 
 +++++++++
 Like every year, we invite you to complete our annual feedback survey. This survey is one of the means we use, as part of our ISO9001 quality process, to measure the adequacy between your needs and our service offering.
 This survey will only take a few minutes to complete and is available until December 15 2022, at this address
 https://migale.inrae.fr/evaluation2022
 We know that you are regularly solicited by this kind of survey, but be sure that we study your answers carefully.
 Here are a few examples of actions or services implemented following your suggestions in recent years:
 - Setting up a tutorial on how to use the Migale platform
 - Change the account opening message to better point to the cluster's user documentation
 - Implementation of a "comparative genomics" training course
 We thank you in advance for your participation,