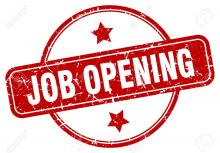 [English below]
Dans le cadre de la campagne de mobilité INRAE qui vient d'être ouverte, la plateforme de bioinformatique Migale affiche deux profils de postes pour renforcer l'équipe en charge du service d'analyse de données.
- Un•e ingénieur•e d'études bioinformaticien en méta-omiques  [Profil complet]
- Un•e ingénieur•e de recherches en analyses statistiques de données méta-omiques [Profil complet]
Les modalités de la mobilité, ouverte à l'ensemble des fonctionnaires et agents en CDI des trois fonctions publiques ayant au moins 3 ans d'ancienneté dans leur affectation actuelle, sont détaillées sur le site de la campagne. Les dossiers doivent être déposés avant le 8 septembre.
N'hésitez pas à nous contacter pour plus de renseignements : valentin.loux@inrae.fr sophie.schbath@inrae.fr
---
As part of the INRAE mobility campaign that has just been opened, the Migale bioinformatics facility is opening two job profiles to strengthen the team in charge of the data analysis service
- A bioinformatics engineer in meta-omics 
Full profile (in french)
- A research engineer in statistical analysis of meta-omics data
Full profile (in french)
The modalities of the mobility, open to all civil servants and agents on permanent contracts of the three public services with at least 3 years of seniority in their current assignment, are detailed on the campaign website (in french).
Applications must be submitted before September 8.
Do not hesitate to contact us for more information: valentin.loux@inrae.fr sophie.schbath@inrae.fr